| Item ID | Starting Bid | Bids | Current Bid |
| --- | --- | --- | --- |
| 16607 | $75.00 | 7 | $145.00 |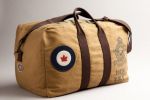 We are very pleased to have Red Canoe participate this year in our Anniversary Auction.
Who better than a company that loves aviation, inconic Canadian images and flying in remote areas to be part of our event!
PNPC pilots...THIS one is for YOU!
The RCAF Kit Bag
22" L x 14" W x 16 1/2" H
Retail: $149.99
And BTW if you buy one of their RCAF bags from their stores or online at their website, the Red Canoe Brands donates a portion from the sale to support RCAF Veteran and Canadian DND aviation related initiatives.
HOW COOL ARE THEY!
To learn more about them, follow this link: www.redcanoebrands.com
In 1999 Red Canoe was conceived in a bush plane over the pristine wilderness of Northern Ontario.
Sudbury Ontario native Dax Wilkinson grew up with these experiences but had been transplanted to the big city of Toronto. While the aspiring entrepreneur and designer developed products for different brands, close friends from home were becoming professional Bush Pilots.
A treasured invitation from one such friend for a flight in a deHavilland DHC-2 Beaver led to a 'flashbulb moment.' The pilot compared his plane to a passing Harley Davidson…. The sound was comparable but better. The passion that owners and enthusiasts happily expressed was equal. The utility of the machines and their relative impacts on Canada were quite different; the DHC-2 was the tool by which much of the Canadian landscape had been made accessible.
The imagery, romance and heritage of the unique lifestyle this form of travel represents are hard to express. Those that live it carry forward a tradition of the Canadian pioneers who pushed the limits of possibility in the face of all the adversity our rugged landscape could muster.
The deHavilland Beaver is a remarkable example of Northern Canadian ambition. The land's unique requirements inspired a design that would allow expansion of Canadian possibilities. The increased utility of this rugged aircraft changed our country forever.
Wilkinson decided to create a product line inspired by Canadian icons with great stories like the DHC-2 Beaver. Many of these stories were unknown, fading from memory or taken for granted. Those few individuals that knew them well would welcome any banner that invited the uninitiated to take interest.