| Item ID | Starting Bid | Bids | Current Bid |
| --- | --- | --- | --- |
| 16481 | $8.00 | 1 | $10.00 |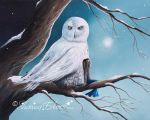 Shawna Erback
"Welcome! I'm so glad you would like to learn more about my work and studio! I am a Canadian artist from a beautiful valley in the West Kootenays, BC. Tens of thousands of collectors all around the world enjoy my paintings, prints and licensed designs.
I have been painting and designing since I was a child. My collectors have followed the journey of a little girl through fantastical fields and forests, past sad, lonely moons and on the backs of giant turtles and fairy peacocks. They have met my special friends, like my faithful heart pet, grand giraffes and majestic lions.
I offer a unique style of dreamscapes, blending together surrealism and fantasy with gothic or whimsical tones, depending on where my mood takes me. With each stroke of my brush, I weave together a story. I draw the viewer into my world where they can sit together for a while and share a moment.
If you would like to meet me and see my paintings in person, please visit my page HERE to keep updated on upcoming shows and appearances."
SIZE8x10 inches
MEDIUM fine art print on paper
COPYRIGHT
All artwork created by Shawna Erback is protected under copyright laws and may not be reproduced in any manner without permission.
See more from Shawna's shop here:
http://www.etsy.com/shop/shawnaerback
Value $15