| Item ID | Starting Bid | Bids | Current Bid |
| --- | --- | --- | --- |
| 16382 | $80.00 | 0 | $0.00 |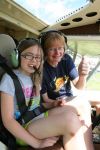 The winner of this item will enjoy a sightseeing tour for 45 minute in a Land Africa departing from Lyncrest Airport, near Winnipeg Manitoba and flying over beautiful eastern prairie towns or lake country depending on the winner's interest.
Departing from Lyncrest Airport on the outskirts of Winnipeg, the flight will include a briefing, points of interest, introduction to how airplanes fly and complimentary flying magazines.
Please be aware:
The Flight is subject to aircraft availability and weather conditions.
No bags or unnecessary items can be carried except a camera
Passengers must be 8 years of age or older
Weight restriction 180 lbs
Passenger (or guardian if a minor) must be willing to sign a liability release.
There is no refund.
The certificate is transferable, and not refundable.
Value: $300
*valid for one person on 45 minute flight; this aircraft carries one passenger and a shorter flight can be shared with two people, until 15 June 2015