| Item ID | Starting Bid | Bids | Current Bid |
| --- | --- | --- | --- |
| 16381 | $80.00 | 1 | $100.00 |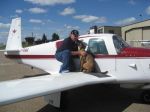 The winner of this item will enjoy a sightseeing tour for one hour starting and ending at either Cooking Lake Airport or St. Paul, Alberta with one of our very experienced pilots, Russ Anderson!
Enjoy the true feeling of flight and get up close-and-personal with a 1959 Mooney M20A - the fastest piston planes in the world! Also hear about the many flights that Russ has done for us at Pilots N Paws Canada.
The plane is fully certified by Transport Canada and is maintained to Mooney's highest standards.
It was fully refurbished in 2008.
Depending on your departure point the flight will include the mountains (from Edmonton) or the plains and lakes of the St. Paul and Lac Labiche area.
Please be aware:
The Flight is subject to aircraft availability and weather conditions.
No bags or unnecessary items can be carried except a camera
Passengers must be 8 years of age or older
Passenger (or guardian if a minor) must be willing to sign a liability release.
There is no refund and the certificate is not transferable
Value: $300
*valid for up to two people on one one-hour flight until 01 July 2015