| Item ID | Starting Bid | Bids | Current Bid |
| --- | --- | --- | --- |
| 16376 | $20.00 | 8 | $36.00 |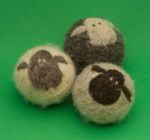 Lynn's Lids Sheepy Wool Dryer Balls.
These 100% wool dryer balls are made with a combination of needle felting and wet felting. The core in most of them is recycled wool, wrapped in wool roving, wrapped in yarn.
The roving and yarn are natural (undyed) wool from an Ontario farm that uses natural practices, and does not broadcast pesticides.
They will not bleed colours into your clothing.
They are about 17 cm (6 3/4") in circumference (sizes vary), and weigh just under 50g/2oz each.
Wool dryer balls help reduce dryer time by bouncing around, separating clothing to create better air flow, and soaking up some of the dampness.
They soften clothes and are safe for cloth diapers and sensitive skin.
If you like some fragrance in there, you can add a couple of drops of your favourite essential oil to the balls.
The balls should last several years.
Shipping varies across the country from about $8-20. To the US it's around $8.50.
Retail Value: $40