| Item ID | Starting Bid | Bids | Current Bid |
| --- | --- | --- | --- |
| 16335 | $50.00 | 11 | $90.00 |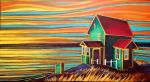 Adam Young is a Newfoundland artist whose inspiration is rooted deeply within Newfoundland's sublime landscape.
"The fishing shed is a prominant fixture in most of my work and is a structure that I have become quite fond of. To me it embodies a strength and perseverance matched only by the people who call this land home. My work is never an exact replica of a particular time or place, rather a mix of times and places, set in a dream with a nod to the Newfoundlander's sense of humour."
Brown's House is a Giclee, 22" X 11" and is valued at $100.
See Adam's Newfoundland here: Adam Young
See more of Adam's work here: www.ayoungstudios.com