| Item ID | Starting Bid | Bids | Current Bid |
| --- | --- | --- | --- |
| 16307 | $10.00 | 10 | $37.00 |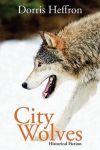 Dorris Heffron kindly donated a signed copy of her wonderful novel City Wolves.
"A moving historical tale and remarkable literary achievement, City Wolves is the story of Canada's first woman veterinarian, Meg Wilkinson. Born in 1870 on a farm near Halifax, Meg's childhood experience with wolves makes her determined to be a veterinarian. Supported by the seemingly eccentric Randolph Oliphant and inspired by the ancient Inuit who first turned wolves into sled dogs, Meg surpasses the horse doctors at vet college and becomes the notorious 'dog doctor of Halifax' in the 1890s. After her unusual marriage ends abruptly in Boston, Meg travels to Vancouver and up to the Yukon, seeking the legendary sled dogs. Arriving at the beginning of the Klondike gold rush, she makes her way amidst Mounties, dance hall girls, Klondike Kings, mushers, priests and swindlers...all the mangy and magnificent people, dogs and spirits that populated raucous Dawson City.
Observed through the restless spirit of Inuit Ike, this is lively, insightful, historical fiction, subtly revealing the wolf-like nature of humans and the human nature of wolves. Both earthy and reflective, City Wolves is an important story told with compassion, humour and unflinching realism. In this her fifth novel, Dorris Heffron has created a wide range of unforgettable characters and achieved a breadth of vision exploring the deep conflicts and interconnection of social beings in a way that is uniquely Canadian and profoundly universal."
Born in Noranda, Quebec, Dorris Heffron has an Honours B.A.(1967),and M.A.(1969) in Literature and Philosophy from Queen's University, Canada. Heffron lived in Oxford, England from 1968-1980 where she was a tutor for Oxford University and The Open University, giving courses in Literature. While there, she wrote three novels about teenagers, published by Macmillan, London. Internationally acclaimed, they are regarded as pioneers in the genre of young adult fiction. They were translated and put on highschool courses in Europe, Japan and Canada. During sabbaticals, she taught creative writing at the University of Malaysia and resided while writing and teaching, in Holland, France and Cape Breton Island. Heffron returned to Toronto in 1980.
She has served on the National Council of The Writers' Union, the Board of Directors of PEN Canada, The Writers Trust of Canada, the Toronto Arts Council and the Board of Directors of the Native Men's Residence. She has been a library writer-in-residence and book reviewer for the Globe and Mail
In Ottawa, on June 2nd, 2013, at their 40th anniversary, Dorris Heffron became Chair of The Writers' Union of Canada.
Heffron's first adult's novel, the popular, A Shark in the House is about a woman dentist in Toronto who reluctantly finds herself involved in the aboriginal standoff at Oka. Told with humour and compassion, it is a story of love and striving, death and survival, of people on both sides of the barricades.
Heffron's new novel, City Wolves is the story of Canada's first woman veterinarian who becomes the notorious 'Dog Doctor of Halifax' in the 1890s and winds up in the Klondike gold rush tending sled dogs. At the heart of the novel is the ancient story of how wolves became sled dogs. Uniquely Canadian and profoundly universal, City Wolves subtly reveals the human nature of wolves and the wolf-life nature of humans.
Dorris Heffron now lives at Little Creek Wolf Range, two hours north of Toronto, with her husband and sled dogs. She has children and step children and a dozen little grand kids.